52

nd

Street Jump - Swing Dance in Lincolnshire

52nd Street Jump (Caron and Steve Mason) © 2020
No content to be copied or used without permission. All rights reserved. Links | Contact

Every Wednesday from 7.30pm - Stroll Class
Join us for our online stroll class using Zoom. Strolls are choreographed routines which are danced to music from the 30s - 50s and are, despite being a modern invention, frequently seen being danced at vintage events.
The class begins with Steve leading a choreographed warm-up to music. This is a great opportunity to learn new choreography and some musicality too. Then, we will work through several strolls, revising/ teaching the steps before doing each with music at different tempos. We will regularly include the strolls which we teach in our in-person classes, but also include some completely new strolls too.
The class lasts for around an hour and a half and tickets cost £3 for each person joining us. We sell tickets via Eventbrite and a booking fee is added to each ticket by them. On booking your tickets, you will be guided to a page where you can find the details for accessing the class.Your ticket price also entitles you to access to a video of the class following the event. You can then do the class again or perhaps just do the class in your own time rather than attending via Zoom. This will be available for a a minimum of 6 days. The video will be shared via Google Drive and you will be sent a link following the event. You should be able to view the video easily using a web browser.
We look forward to seeing you there!
Buy your tickets here at Eventbrite.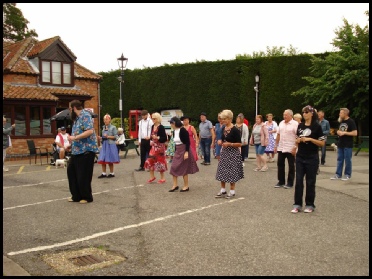 Most Tuesdays (8.00pm) - Zoom Social
Join us for our free online social using Zoom. You can dance, chat, laugh, watch others dance or just listen to the music. These socials have been great fun and we are committed to keeping them going until we can all get together in person again.
There's no need to book. Just use the details below to join us on Zoom.
Next Zoom Social - Tuesday 14th December at 8.00pm
https://us02web.zoom.us/j/82476894727?pwd=cURxZHRublFzU3huY0NWdVYwczVrZz09
Meeting ID: 824 7689 4727
Passcode: 562553

There are a number of options for learning online and we are increasing the opportunities as time goes on. Here a the current options for online swing dance events and classes.

Private Dance Classes
Using Zoom, we can offer private dance classes. Whether you want to brush up on your basics or learn some new moves, there is much that can be achieved even when we can't be in the same room with you. We're offering a special price of £30 per hour for online private classes during the coronavirus situation.
For more details give us a call on 01507 463130.

Shim Sham Course
With a date to be confirmed, we're hosting another online course to learn the Shim Sham. The course runs on Facebook, in a private group, and costs £15. We post a couple of videos each week teaching the moves in detail and also supply written notes. There is the opportunity to ask questions both of us and also your fellow learners.
If you'd like to join the next course, you can Contact Us.