52

nd

Street Jump - Swing Dance in Lincolnshire

52nd Street Jump (Caron and Steve Mason) © 2020
No content to be copied or used without permission. All rights reserved. Links | Contact
52nd Street Jump began in 2005 when we were teaching in West Sussex and Central London. Within a couple of years, we had added successful classes in Surrey and South East London. Between 2005 - 2009, we taught The Foundation Course in Lindy Hop at Covent Garden's Pineapple Dance Studios . During this course we introduced hundreds of people to the Lindy Hop scene, teaching them their first steps. Many of these dancers can be seen today around the country, some as teachers and performers.
We also started a number of popular dances including Nosey Joe's (featuring live music) and Saturday Night Swing Club (a hugely successful night in Central London run in association with The London Swing Dance Society).
When we moved to Lincolnshire in 2010, we expected to reduce our commitment to dance teaching and events. The call of Lindy Hop is hard to resist though and, following requests for classes in Lincolnshire, we decided to start The Louth Lindy Hop Club in 2011. In July 2017, it became clear that Lincoln needed a Lindy Hop club and Lincoln Lindy Hop club began shortly afterwards.
Throughout all our time teaching and running events we have aimed to provide high quality, informative classes which enable anyone to learn to dance. Most of all, we find teaching a pleasure and we hope that the fun we experience when teaching comes through in our classes!

Caron is a trained dancer, having studied Jazz, Ballet and Tap. She taught Lindy Hop and Jive at Pineapple Dance Studios, in London, from 2002 until 2009. This included the highly successful Foundation Course in Lindy Hop, which was developed with Steve. Throughout this time, she regularly appeared as a guest teacher for the London Swing Dance Society at the 100 Club, Oxford Street.
Caron is a popular teacher with beginners and improvers alike. For beginners, she offers plenty of encouragement while reminding them not to cheat their steps. You'll often hear her reminding dancers to have their hands in the 'ever-ready position'. Thanks to her positive influence it doesn't take long before new students have got the 'Lindy Bug'. Because she focuses on styling and technique, improvers are able to make the small adjustments needed to perfect their moves.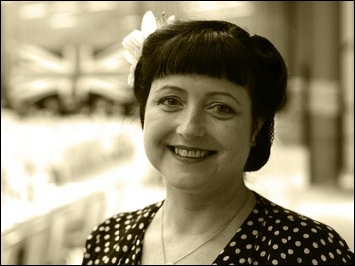 Caron has taught many classes and workshops at private functions around the country and in Jersey. She has appeared as a dancer for the Memphis Belle Orchestra, New Squadronaires, and the Glenn Miller Tribute band amongst others. She has also danced in Television and Big Screen productions such as Foyle's War, William and Mary, Being Julia, and Piccadilly Jim.
Her passion for the era extends to clothing and styling and she can often be found at vintage fairs buying items to wear for dancing.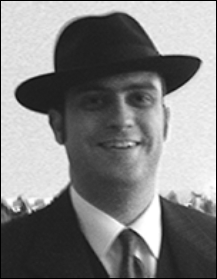 Steve Mason has been Swing dancing since 2002. After initially dancing East Coast Swing, he was impressed with the moves he saw Lindy Hop dancers performing. He loves the way that Lindy Hop has something for everybody from high energy Charleston moves to smooth 8-count patterns.
Together with Caron, he taught at Pineapple Dance Studios from 2005 until 2009, including developing the Foundation Course in Lindy Hop. He also appeared with Caron as a guest teacher for the London Swing Dance Society at the 100 Club and the Rhythm Lounge.
Steve would never have described himself as a natural dancer before discovering Swing Dancing. He has worked hard to master the steps and techniques of Lindy Hop and this means he gives clear and accurate instruction while teaching. He loves thinking about new ways to explain concepts such as lead and follow and really enjoys teaching. Since gaining his Postgraduate Certificate in Education, he has applied the skills learnt in the classroom to his Lindy Hop teaching. Usually, he doesn't use his 'teacher' voice!
Caron and Steve are both members of the Guild of Professional Teachers of Dance, Movement to Music and Dramatic Arts.
Steve has a lighthearted approach to teaching and enjoys humorous exchanges with students during classes. He particularly enjoys teaching those, like himself, who join their first class thinking 'I'll never be any good at this'. He insists that everyone can learn enough to have fun dancing and usually far more skilfully than they ever expected.
Steve has appeared at a large number of events around the country and in Jersey as a teacher and performer. In 2005, he started appearing as a Swing DJ - Dr Swing - at a number of well known venues. He has made regular guest appearances at Hula Boogie, Rhythm Lounge, Helzappopin', Gangbusters and Stompin' at the 100 Club. He particularly enjoyed being resident DJ at Saturday Night Swing Club, where the huge crowds of enthusiastic dancers were a real pleasure to play for. He enjoys playing a mix of music including big band and small group swing, rhythm and blues, boogie-woogie, rock and roll, hillbilly boogie and western swing.
Steve has a great interest in the music of the 30's to the 50's and often researches the background of musicians and bands.