52

nd

Street Jump - Swing Dance in Lincolnshire

52nd Street Jump (Caron and Steve Mason) © 2020
No content to be copied or used without permission. All rights reserved. Links | Contact

In addition to running our own events, we have a wealth of experience in providing dance classes, workshops, performances and vintage music for events run by a wide range of organisations. Whatever you have in mind, give us a call or drop us an email. We can discuss your requirements to ensure your needs are met.
For more information about what we have to offer, click on the relevant heading below.
If you can't see what you are looking for here, contact us.
Improve your dancing with individual feedback or learn to dance for your wedding.
Living History Jitterbug sessions for KS2. Dance workshops for KS2 or 3.
Themed entertainment, fun dance classes or a vintage DJ.
Specialist DJ with extensive experience. Music for 40's events, Swing Dance or Jive nights, or 50's parties.
Team building workshops, dancers and music for 40's or 50's events, fun classes to learn new skills.
Previous Clients Include the Following:
Warner Holidays (Bourne Leisure), Seventeen Events, Skegness Water Leisure Park,
Horsham District Council, West Sussex County Council, Lincolnshire County Council,
West Sussex Adult Education, Sydenham High School for Girls, John Spendluffe Technical College, Alford Primary School, Wragby Primary School, Lacey Gardens Junior School, Sainsbury's (Active Kids),
The Memphis Belle Orchestra, Watford Colloseum, The Hawth Theatre - Crawley,
Scott 'n' Wiseman School of Dance, LP Dance Centre, Hampshire Dance Trust,
Jersey Arts Centre, Cat's Pyjamas Burlesque Cooperative, Ragroof Theatre, Zero Degrees - The Louth Festival, Oakham Festival,
Age Concern, Marie Curie,
Springfields Outlet Spalding,
Friskney Show, Lincoln Big (1940's Weekend), North Thoresby 1940's Weekend, Willoughby Village Hall, Mablethorpe Bathing Beauties Festival,
Channel 4 TV (Mentorn),
London Swing Dance Society,
Return to top of page

Private Tuition
High Impact Tuition
Do you need some extra support to build confidence so you feel ready for freestyle?

Do you want to target a particular move to improve styling or technique?

Do you want personalised feedback and guidance?
Weekly classes are a great way to learn to dance, but they don't always allow the personalised feedback which can help you to improve as a dancer. The biggest advantage of private tuition is that you can target the specific areas which matter to you, or ask us where we think you can make improvements. Learning in this way also means you can move at your own pace. We often find students pick up more in a shorter period of time.
We can provide private tuition in a range of ways. We often work together whether teaching an individual alone or with their partner. This allows us to make the very best use of your time.
Wedding Dance Nerves?
Don't panic! We have plenty of experience in teaching couples how to dance stylishly and confidently on their special day. Learning just a few basic moves will mean your first dance is exciting and enjoyable for you and your guests. We show you how to achieve all this without learning long choreographed routines because you've got better things to be thinking about on your wedding day.
Prices and Locations
We are able to arrange private tuition at our home in Alford, but can also hire a venue or travel if required.
Prices are available on request and will include charges for travel or venue hire if applicable.
Schools
Steve holds a PGCE in Primary Education which means we can plan sessions which address the objectives of the National Curriculum, as well as your own particular requirements. In our experience, dance workshops are an engaging way to build self-confidence, teamwork, creativity and fitness while learning about the history of dance.
The following examples give some ideas of how sessions can be structured but this is by no means an exhaustive list.
KeyStage 2 - Physical Education
A series of sessions where a choreographed sequence of moves is learnt. In each session, children will also develop their own moves based on prompts given. The sessions will culminate in a group or whole-class performance which incorporates both taught and self-developed sections.
KeyStage 2 - History
Lindy Hop, known as Jitterbug during World War II, forms an important part of the story of the home front. Dance based sessions can incorporate additional activities or discussion dependent on the particular topics being taught. We will attend the session dressed in vintage clothing and can also bring items such as newspapers, propaganda posters, pictures and artefacts to prompt discussion.
Sessions can include:
KeyStage 3 - Physical Education
A series of sessions where a choreographed partnered routine is taught in each session (including Lindy Hop, Jitterbug, Charleston etc.). Each week will focus on a different element of dance - timing, musicality, dynamics etc. This could culminate in children choosing moves to choreograph their own piece.
Weddings and Parties
Weddings
While we have helped with entertainment and music for themed weddings, you might just want a short class to help get your guests mingling. We are experienced in providing a range of services and are sensitive to your needs. If you have an idea, just ask as we can probably help.
A dance class is a great way for you to introduce different friends to each other. It's a fun way to get your friends laughing together and it makes a perfect start to a hen party. If you've got your friends dressed like flappers or the Pink Ladies, we can teach you a dance to match.
Dancing the Lindy Hop with vintage music will delight your guests, and learning to dance together is memorable experience which you will both enjoy. It's also a chance to enjoy some time with your partner away from the other preparations as you approach the big day. Why not read more about private tuition?
We can teach a short class to help get your guests dancing. A fun class will soon get your guests talking and laughing. With a mix of well known swing and rock and roll music, your guests will enjoy doing something new while celebrating your special day. If you are booking a rock and roll or swing band, this is a perfect way to make the most of the music.
We can provide classes in a range of suitable dances, a DJ to play vintage music and suggest a range of bands who might match your needs. Whether you want to take the theme to the extreme or have subtle features, we can help.
Parties
A dance class is a great way to start your friends and family talking and having fun. As we rotate partners, your guests will mingle and chat while they learn. After the class, your party will be in full swing with your friends eager to practise their new moves.
Perhaps you are considering a theme for your party. We can provide dance classes, music and a DJ to suit a range of themes including 20's flappers, Great Gatsby, 30's prohibition and gangsters, 40's wartime, and 50's rock and roll. You might not yet have thought through exactly what you want yet, but we can help you perfect the ideas. Just give us a call.
Return to top of page
Return to top of page
DJ - Dr Swing
Steve has been working as a DJ providing music for swing dance events for nearly as long as we have been teaching together. He has extensive experience, having acted as resident DJ in a range of different clubs as well as taking frequent opportunities to guest or work at outside events.
Music for Dancers by a Dancer
As a dance teacher, Steve is very aware of the needs of dancers at all levels. He plays music which is likely to be well known and easily enjoyed for those with less experience but also keeps the more experienced dancers happy by playing more challenging music which gives opportunities for expressing musicality or changes in rhythm. Steve never prepares a set play list in advance as he knows his music well enough to react to the dance floor. By reading the dance floor, he responds to the moods and needs of the dancers. He will always try and play music which has been requested too!
Return to top of page
Corporate Events
Events
Lindy Hop, Jitterbug and Jive are exciting dances which are great fun to watch as well as learn. If you are running a vintage event or festival, a fun class, Vintage DJ and dance display really add to the vintage feel. A group of dancers always draws a crowd and makes a great addition to any event.
If you are running an event with a band playing Swing or Rock and Roll, a short dance class is the perfect way to get people onto the dance floor.
Workshops
We can plan and run a dance workshop on your behalf whether you are a community group, college, arts group or theatre. We'll discuss your requirements to ensure the workshop is well designed, suitable for the participants and enjoyable. We have experience in running fun workshops for many different community groups which are suitable for a range of abilities. We can also provide specialist tuition in vintage dances for your dance school or help choreograph and plan a dance piece as part of a theatre production.
Team Building
A dance class is a great way to get colleagues to interact in a more relaxed setting while learning something new. Lead and follow exercises encourage thinking about communication and co-operation with a range of partners. Dancing is a great antidote to workplace stresses too!
Music from the 30's to the 50's
Steve enjoys a wide range of music from the 30's to the 50's and sometimes even ventures into the 20's or the 60's! Collecting music of this era has become something of an obsession and he particularly enjoys finding lesser known versions of well-known tracks. In addition to collecting the music, he enjoys reading about the musicians and their lives.
While Steve can play music from one particular era when called for, he is always happiest when playing a mixture of music. This has proven to be popular with dancers time and time again as there is something to suit all tastes. His collection includes Big Band and Small Group Swing, Hot Jazz, Boogie Woogie, Jump Jazz, Rhythm and Blues, Western Swing, Hillbilly Boogie and Rock and Roll.
Dance Events, Festivals, Weekenders and Parties
Steve is available to play for a variety of events. He has experience in a wide range of contexts and is just as happy providing a whole day's music as he is playing interval music for a band. He is happy to act as MC announcing bands or other entertainment and can also provide a dance class should this be required.
Previous Engagements
Resident DJ: Swingin' in Salfords, South East London Lindy Hop Club, Wednesday Night Hop, The Chicken Shack, Dig That Jive, Nosey Joe's, Saturday Night Swing Club, The Black Diamond Club and Louth Lindy Hop Club.
Guest DJ: Stompin', Hula Boogie, Helzapoppin', Rhythm Lounge, Twickenham Boogie, Susie Q's Supper Club and Gangbusters.
Weekenders: Learn to Jitterbug (Warner's Holidays 1940's Weekends).
Festivals: London Lindy Hop Festival, Zero Degrees Festival (Louth Vintage Day) and North Thoresby 1940's Weekend.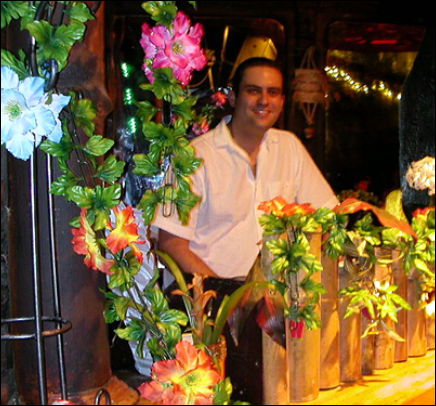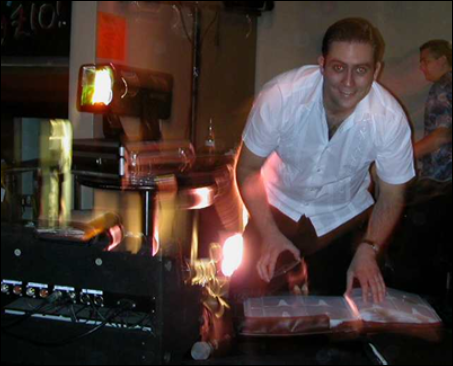 Return to top of page